First Free Gathering Workshop at the Faculty of Engineering
First Free Gathering Workshop at the Faculty of Engineering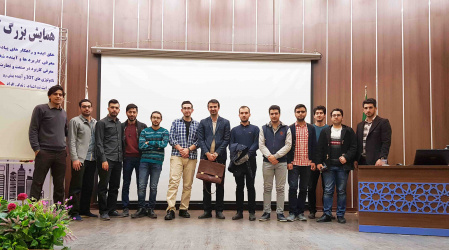 First Free Gathering Workshop at the Faculty of Engineering
December 28, 2017; 23:12; News Code: 2390; News, Visual News
Visits: 151
Today, December 28th, the first free gathering workshop of "From Idea to Practice" was held under the support of the Deputy of Research and Technology of the branch with the goal of training students and startup enthusiasts by Ali Chitsazian, MSc in Information Technology and Electronics Business and Managing Director of Tin Informatics Corporation for a group of students and entrepreneurship and startup enthusiasts in the Shahid Mousavi Hall of the Faculty of Engineering.
Most participants in this workshop were students with programming and designing expertise of web and mobile apps and active people in the field of new businesses.
In this workshop, Ali Chitsazian presented an introduction to entrepreneurship, how to set up a startup and business, a feature of successful entrepreneurs, writing business plans, and more considerable issues.